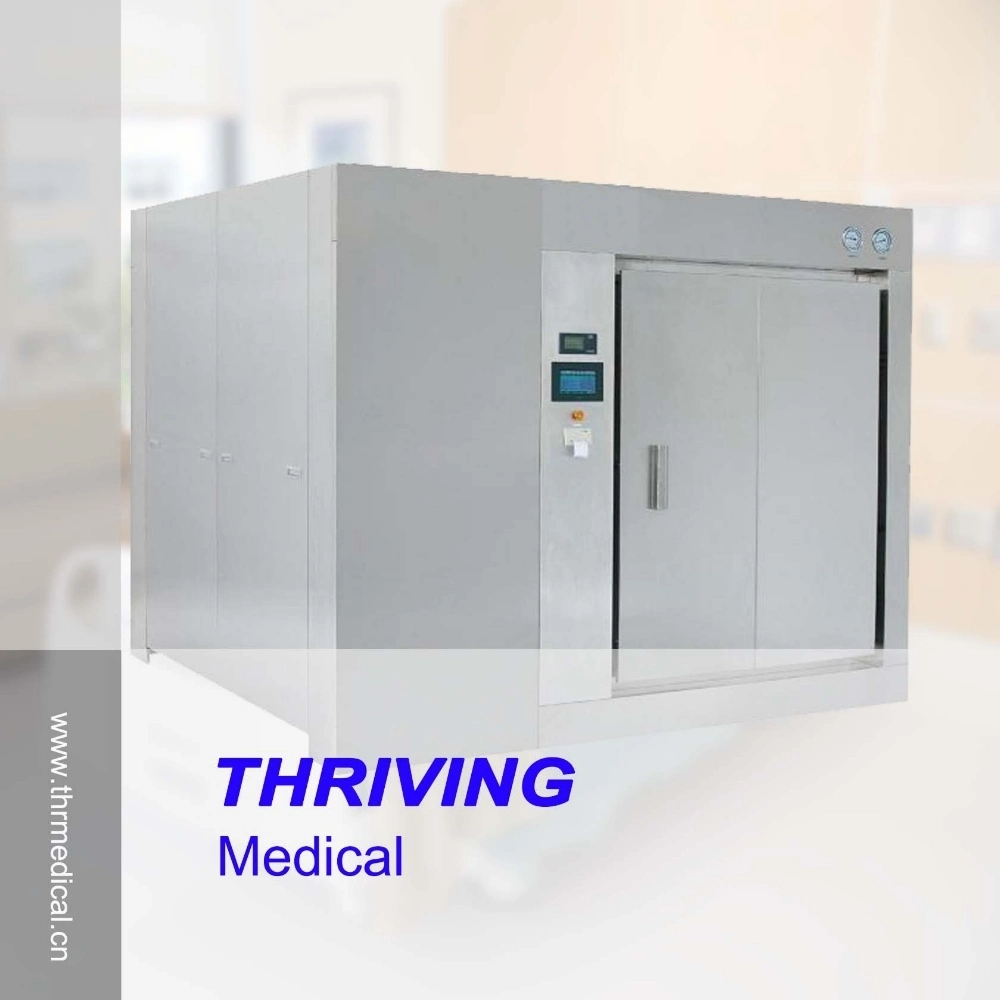 THR-DKS Water-bath Type Leakage Detection Sterilizer of Oral Liquid and Injection Solution
Product Description
Technical Parameter
Brief Description
Water-bath type ampoule leakage detection sterilizer uses high temperature circulating water as sterilization medium. It is mainly used in water-bathing type sterilizing operation and leakage washing treatment of injection, oral liquid and other products. After pure water circulated by water pump and heated by plate exchanger, it performs sterilizing program in the manner of spraying. This equipment takes advantages of good temperature evenness, wide temperature adjustment range (80-126ºC). At the same time, it avoids the second pollution in the work process. The inspection of combining vacuum with colorful water ensures the complete inspection result.
Features
1. The main body of horizontal rectangle structure. High quality acid-proof stainless steel 304 inner liner, stainless steel wiring-drawing plate foe decoration case.It has standard GMP Certification joint for user to certificate the equipment freely.
2. It adopts double-door-leaf auto-moving door or mechanical door.
3. It adopts computer-control or PLC+ touching screen system.F0 value ensures the sterilizing results together with the curve of temperature and pressure. The system inspects temperature correctly and runs steadily, keeping complete sterilizing record.
4. It adopts the excellent system in the trade. The main components contain Alfalaval stainless steel baffle heat exchanger, Burkert water-resistance valve and high temperature aid-operated valve, NASH vacuum pump and spraying system and so on.
5. The pressure of design and running is selected according to characters of articles sterilized.
Main Technical Parameters
1. Power supply: 380V/50Hz
2. Steam Pressure: 0.3~0.5Mpa
3. Water Pressure: 0.15~0.3Mpa
4. Compressed Air Pressure: 0.5~0.7Mpa
5. Designed Pressure: 0.25Mpa
6. Working Pressure: 0.23Mpa
7. Working Temperature: 134ºC
Parameters&Utilities&Size
| | | | | | | | |
| --- | --- | --- | --- | --- | --- | --- | --- |
| Model | Inner Chamber Size(L*W*H)mm | Overall Size(L*W*H)mm Single/Double Door | Net Weight Kg | Kg/cycle | Control Power AC 220V/50 Hz kw | Power Supply 3-AC380V 50Hz Kw | Water Consumption Kg/cycle |
| THR-CKS-1.2 | 1500*680*1180 | 1840*2100*2000 | 2000 | 40 | 0.5 | 3.5 | 800 |
| THR-CKS-1.5 | 1870*680*1180 | 2210*2100*2000 | 2200 | 50 | 0.5 | 3.5 | 1100 |
| THR-CKS-2.0 | 1700*1000*1200 | 2040*2600*2000 | 2600 | 70 | 0.5 | 4 | 1300 |
| THR-CKS-2.5 | 1700*1000*1500 | 2040*2600*2200 | 2900 | 80 | 0.5 | 5.5 | 150 |
| THR-CKS-3.0 | 2000*1000*1500 | 2340*2600*2200 | 3050 | 100 | 0.5 | 7 | 650 |
| THR-CKS-4.0 | 2670*1000*1500 | 3010*2600*2200 | 3800 | 120 | 0.5 | 9 | 750 |
| THR-CKS-5.0 | 3340*1000*1500 | 3680*2600*2200 | 5000 | 150 | 0.5 | 11 | 850 |