Amoxicillin Sodium for Injection
Active Ingredients:

Indications:
the treatment of the following infections in adults and children:
• Severe infections of the ear, nose and throat (such as mastoiditis, peritonsillar infections, epiglottitis, and sinusitis when accompanied by severe systemic signs and symptoms)
• Acute exacerbations of chronic bronchitis
• Community acquired pneumonia
• Acute cystitis
• Acute pyelonephritis
• Severe dental abscess with spreading cellulitis
• Prosthetic joint infections
• Lyme disease
• Bacterial meningitis
• Bacteremia that occurs in association with, or is suspected to be associated with, any of the infections listed above
Amoxicillin is also indicated for the treatment and prophylaxis of endocarditis.
Consideration should be given to official guidance on the appropriate use of antibacterial agents.

Ceftriaxone may be used
For treatment of acute exacerbations of chronic obstructive pulmonary disease in adults.
For treatment of disseminated Lyme borreliosis (early (stage II) and late (stage III)) in adults and children including neonates from 15 days of age.
For pre-operative prophylaxis of surgical site infections.
In the management of neutropenic patients with fever that is suspected to be due to a bacterial infection.
In the treatment of patients with bacteraemia that occurs in association with, or is suspected to be associated with, any of the infections listed above.
Ceftriaxone should be co-administered with other antibacterial agents whenever the possible range of causative bacteria would not fall within its spectrum.
Consideration should be given to official guidelines on the appropriate use of antibacterial agents.

Storage:
Store in an airtight container, protect from light.
| | |
| --- | --- |
| Comercial Packing | 10 vial/box; 25 vials/box; 50 vials/box; or Customized |
| Production Time | About 40-60days after artwork confirmed. |
1.Mixed container, we can mix different items in one container.
2.Free professional and creative artwork design.
3.OEM service.
4.Registration documents supported.
5.Packing as your request, with photo before shipment.
Business License, Manufacturing License, Certificate of Pharmaceutical Products (CoPP), Free Sales Certificate (FSC), and technical documents for registration.


Shenzhen Acare International Industrial Co., Ltd, (formerly was the overseas department of Zkare Medical, became independent as a subsidiary company of Zkare Medical in 2019), is a professionally managed enterprise specialized in developing and distributing the pharmaceutical formulations, medical device and health supplement etc.

Acare is committed to integrate our professional knowledge, extensive med-trading experience and enormous factory resources to satisfy various and complicated demands from customers all over the world. At present, our main market covers East and West Africa, Middle East, Southeast Asia, Central America and Europe etc.

Except for excellent marketing team, Acare also has experienced pharmacists, consultants and designers to provide assistance with everything from registration documentation, factory inspection, production requirements to package marketing design etc.

Acare performs strict supplier pre-audit system to guarantee the products quality, factories are inspected by pharmacists before first time cooperation. Pharmaceutical formulations and Health supplements are manufactured from GMP approved plants. Pharmaceuticals comply to CP, BP, USP or EP specification, medical device carry ISO, CE, FDA or NMPA certifications.

Acare Mission
Link Chinese high-quality medical & healthcare resources to serve the global market

Acare Vision
Become a leading provider of medical & healthcare products in China

Acare Values
Customer First, Quality Focus, Professionalism, Efficiency, Ethical Business Standards

Acare mission, vision and values are always a guideline throughout our work, our products, and our interaction with others. We will stick in this without compromising ethical business standards.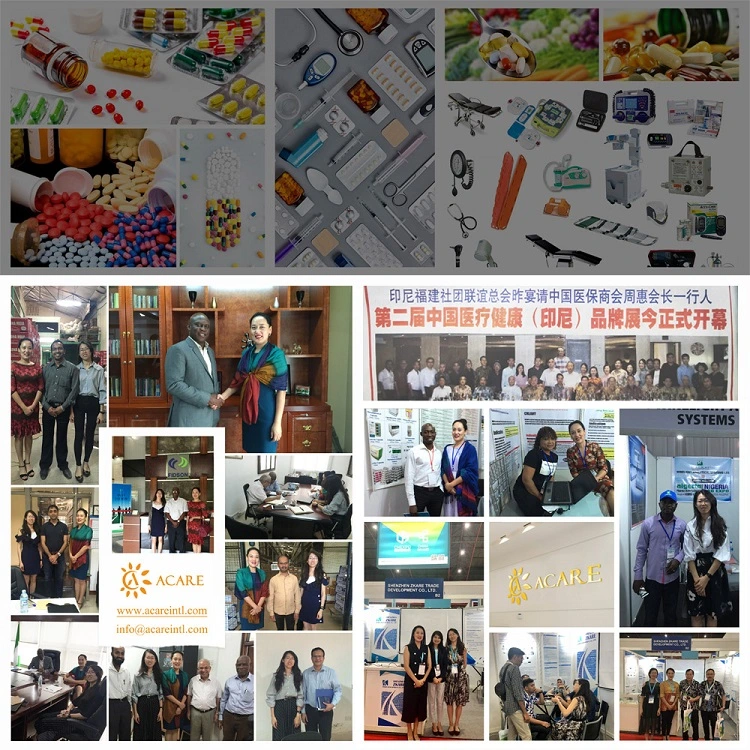 We provide:
* Pharmaceutical finished products such as tablets, capsules, water injections, powder injections, I.V. solution (infusions), dry suspension, creams, ointments, eye/ear drops, suppositories etc.
* Medical Device especially on disposable consumables such as Surgical Suture, Disposable Syringes, Disposable Insulin Syringes, Disposable Infusion Set, Vacuum Blood Collection Tubes, Blood Lancets etc.
* Personal Protective Equipment (PPE): Disposable Face Masks, Face Shield, Protective Goggles, IR Thermometer, PVC/ Latex/ Nitrile Gloves

Featured in:
- Oral & Injectable Penicillin & Cephalosporins
- Sterile Water (for Injection)
- Circumcision Underwear
- Underwear with Urine Leg Bag
- Penile Circumcision Suture Device etc



For more products and details about us, welcomt to contact Acare Intl via email on watermark of products picture or visit our website for futher info, thank you.