300g Large rotary tablet press machine
ZP80-9B Large rotary tablet press machine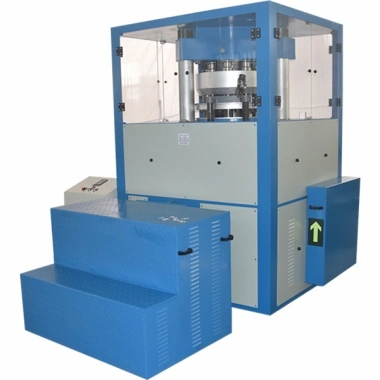 It is used to press 250g 280g 300g tablets, including TCCA/ Calcium hypochlorite / calcium chloride tablets / dichlorvos/ disinfectants and so on.
Introduction:
ZP80-9B can press any granular material into large tablets of round or non-round shape. It was specially developed for large TCCA production in 250g 280g 300g by our company 6 years ago.
ZP80-9B large rotary tablet press machine production capacity reaches 4000 pcs/h in 250g 280g 300g chlorine tablet, which is ten times than traditional hydraulic tablet press machine. It is called "Power TCCA Machine" by TCCA producers with its speed and excellent production capacity. We also think out many solutions to protect machine from corrosion. ZP80-9B Large rotary tablet press is widely used to produce 3-inch Chlorine Pool Tablets/ Tri-Chlor Chlorine Tablets/ swimming pool chlorine tablets/ 3" Trichlor Chlorine Tablets.
Characters:
* 9 pcs of Chlorine Pool Tablets/ Tri-Chlor Chlorine Tablets/swimming pool chlorine tablets/ Trichlor Chlorine Tablets, output in each circle, 5400pcs/h.
* has pre-press wheel, so pre-pressure function which guarantee the quality of finished TCCA tablets.
* Moulds are made of Titanium Alloy material.
* Other parts connecting with material are made of Titanium material.
* Transparent window is made of plexiglass, prevent powder from cross-contamination
* All gearing parts are fixed in machine inner, avoid it of corrosion.
* With a frequency protection device, if pressure is too large, the tablet press machine can be automatically shut down to protect the body from damage.
Who has used it?
(1)In china, Hebei Jiheng Chemical Group, the largest TCCA production company, has bought more than 5 sets from us. Its yearly production is more than 20000tons. With stable supply ability and good finished chlorine tablets, it has been the designated supplier for USA Lonza Company.
(2)Exporting, for example: It has arrived Brazil & Japan, Spain&USA.
Following is the specification and ZP80-9B machine for your reference.
| | |
| --- | --- |
| Model | ZP80-9B |
| Dies | 9 sets |
| Max pressure | 800 Kn |
| Dia of Tablet | 40 --80 mm |
| Depth of Fill | 60mm |
| max Thickness of Tablet | 31 mm |
| Turret Speed | 1--10r/min |
| Max Production Capacity | 1-5400 pcs/h(adjustable) |
| Motor | 30 kw 980 r/min 380 v / 50 hz/3p |
| Overall Size | 1430*1280*2120 mm |
| Net Weight | 6000kg |
Attention:
Large rotary tablet press our model ZP80-9, max pressure is 80T, it has pre-pressure with pre-pressure wheel. Currently 80T still is the highest pressure that rotary tablet press machine can reach in china mainland.
Tablet hardness our ZP80-9 have reached is 120-300kgf/c-m2, which is the test result from Nanning chemical group and Hebei Jiheng chemical group. They gave us the qualified report after debugging. These are best prove for our machine ZP80-9 pressure.
This kind machine is not cheap. Sincerely suggest and warmly invite you to have field trips to china before ordering. We came across following feedbacks since 2015 year that some people tried to copy our model ZP80-9 machine, they equipped wrong speed reducers for machines, but used "100T rotary" to mislead buyers, they exaggerate and false propaganda, actually their machines are not a stable product. Be careful if you come across.