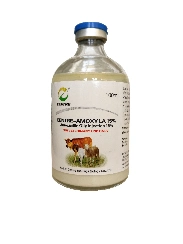 Composition:
Each 1ml contains Amoxicillin trihydrate 150mg .
Pharmaceutical form
Injection
A white or almost white oily suspension for injection
Target species:
The target animals are cattle, calves, sheep, goats, dog and cat
Indications for use:
It is a broad-spectrum beta-lactam antibiotic effectively against most Gram-positive and Gram-negative bacteria isolated from domestic animals. It is indicated for preventive and therapeutic treatment of respiratory, urogenital tract, alimentary tract infections,mastitis,skin and soft tissues infectious in livestock caused by micro-organisms sensitive to Amoxicillin and Gentamycin,such as Streptococcus, Staphylococcus, Haemopholus, Actinobacillus,E.Coil, Pasteurella, among others.
Amounts to be administered and administration route:
Intramuscular or subcutaneous injection:
1ml per 10kg body weight, repeatable if necessary after 48hours.
Contraindications:
Do not administer more than 20ml in cattle or more than 5ml in calves,sheep and goats per injection site.
Special precautions for use:
Shake well before use.
For veterinary use only
Keep out of reach of children
Withdrawal periods:
Meat: 28 days
Milk: 4days